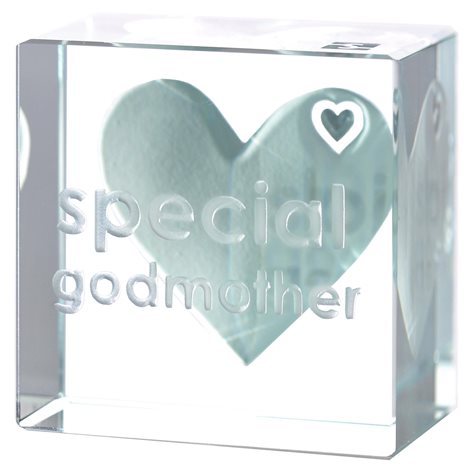 Text Token Godmother
£16.96 £0.00
This wonderful little text token is an ideal gift to give to a special godmother and shows a heartfelt appreciation for everything she has done to love and protect her godchildren. A gift like this is a beautiful keepsake with a personal feel that can be kept and cherished forever.

An elegant layered effect has been achieved by engraving the design into both the back and the front of the glass. The sweet words 'special godmother' have been engraved onto the front of the glass, with two hearts sitting behind them in the back of the token.

To create a stunning finish with this piece around 38 separate stages of expert glass making have been included – by hand – in its overall creation. You will receive this text token in our new packaging, which frames it like a piece of art. 
Dimensions
Height: 30mm
Width: 30mm
Depth: 18mm