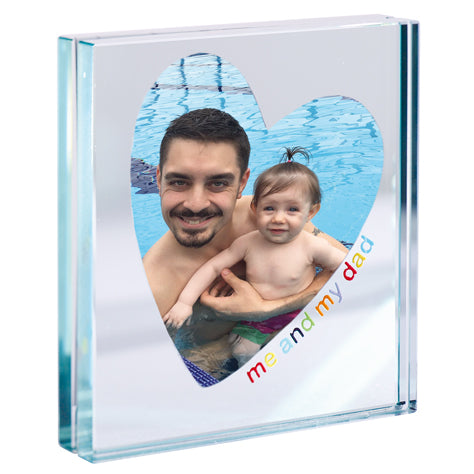 Square Mirror Frame "Me And My Dad"
$32.40 $0.00
A great gift for Father's Day or Dads birthday, featuring a unique design to cherish a special moment forever between a Father and son. The photo sits inside a mirrored glass frame with a clear heart window to frame the special photo momnt. The deeply engraved words 'me and my dad' are etched on the inside of the mirrored glass frame to take away the silvering and fill the letters in with bright colours.  This beautiful, high quality piece for Dad comes in a special gift box.

To make this pieces involves around 34 different hand making processes.

Insert a special photo to finish it off with a truly personal touch - this frame fits a 90 x 85mm sized photo, and you can order perfectly sized great quality photo prints from our friends at OddPrints.com.  
Dimensions
Height: 95mm
Width: 90mm
Depth: 18mm