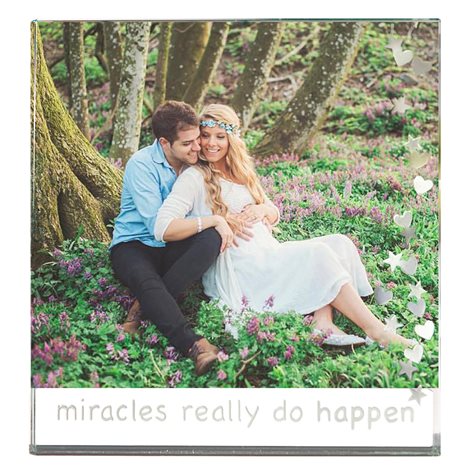 Square Frame Miracles Really Do Happen
£24.95 £0.00
We LOVE this piece. It's so versatile it had our whole office talking about the kind of picture they would put in theirs! We think it is perfect for a new baby or to commemorate a great personal achievement.
The white letters are sandblasted, painted white and sealed in the middle of the glass, whilst the scattering of symbols features on the front and back of the first piece of glass. The craftsmanship is stunning and has a really hand written feel.
Spaceform Square Frames take on average 43 processes to hand make each final piece. Each comes in a beautiul white Spaceform gift box.
This frame fits a 90 x 80mm sized photo, and you can order perfectly sized great quality photo prints from our friends at OddPrints.com.  
Dimensions
Height: 95mm
Width: 90mm
Depth: 17mm