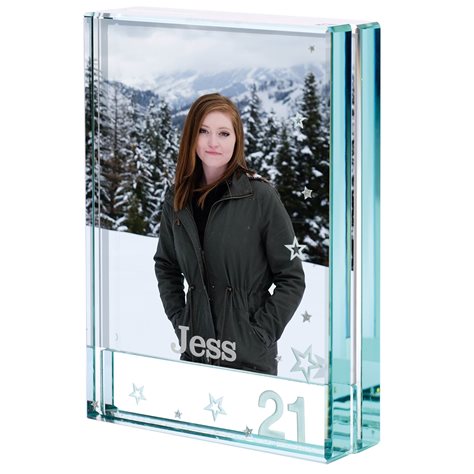 Personalised Small Frame 21 Stars
£34.94 £0.00
With a special message written in your own words this is a frame that can perfectly capture the moment of someone's 21st birthday, and can be the perfect gift for them to cherish that moment forever.
 
Along with your unique message this lovely frame is sprinkled with lovely little stars of silver and frosted glass, with a frosted 21 that sits nicely in the corner. Everything works together wonderfully with this frame to make it a wonderful gift that will raise a smile every time it is seen.
 
Simply click on the blue 'personalise this gift' icon and follow the instructions to create a unique and special memento. Your frame will arrive packaged in a beautiful Spaceform gift box.
Dimensions
Height: 95mm
Width: 75mm
Depth: 21mm