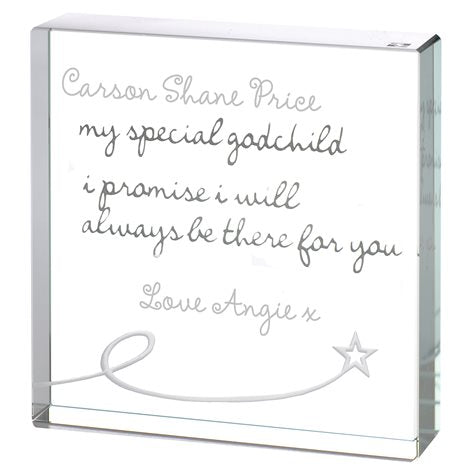 Personalise our Medium Paperweight Special Godchild Line and Star
$76.80 $0.00
This Medium Paperweight has been a Spaceform favourite ever since it was introduced, and we are very excited that it is now available as a personalised piece. Whether it is for a christening, birthday, Christmas or any other occasion this is a beautiful gift for your godchild to keep forever.
 
In addition to the wonderful message that reads 'my special godchild, I promise I will always be there for you', we will personalise the piece to give it an extra special touch. This will be done by engraving your godchild's name before the message, and a loving sign off from you after.
 
Simply click on the blue 'personalise this gift' icon and follow the instructions to create a unique and special memento. Your medium paperweight will arrive packaged in a beautiful Spaceform gift box. 
All our pieces are personalised in the UK and dispatched within 3 working days.
Dimensions
Height: 75mm
Width: 75mm
Depth: 19mm