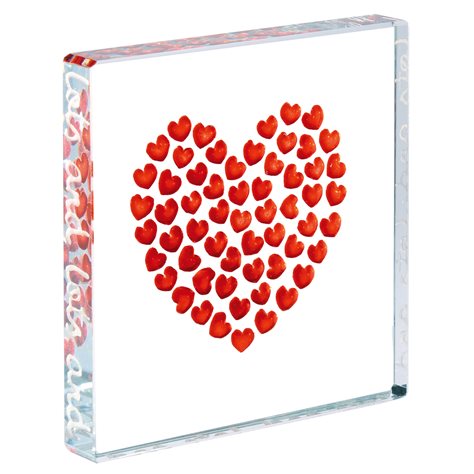 Miniature Token, Heart Within Hearts, On The Edge Says "'I Love You... Lots & Lots & Lots...'
£14.95 £0.00
This beautiful glass miniature token is a Spaceform collectors favourite. A secret hidden message 'i love you... lots & lots & lots...' is delicately etched around all 4 edges, as if written by hand. The technical craftsmanship of this piece is phenomenal.  The tiny red hearts deeply etched into the surface of this glass keepsake are filled with a ruby red paint and look perfectly like a part of the glass which is what we always aim to achieve.

This glass piece is a sweet romantic surprise for any time of year. With 100% success rate of putting a smile on the face of the person you love, not only the time you give it but every time they look at it, makes it definitely worth the investment!

Spaceform Miniature Tokens take on average 38 processes to hand make that final perfect polished piece of glass.  This piece must take a lot more than most.

Mini Tokens come in a stylish white Spaceform gift box.
Dimensions
Height: 40mm
Width: 40mm
Depth: 6mm