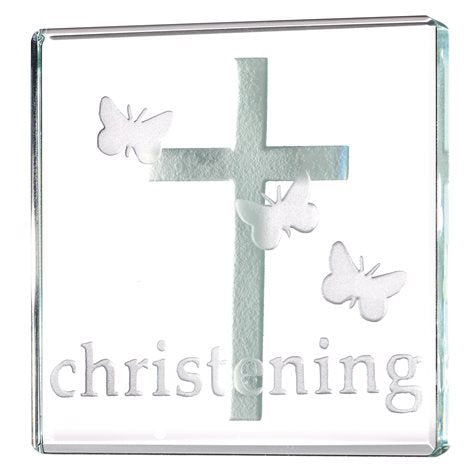 Miniature Token Christening Cross
£14.95 £0.00
When it comes to finding an ideal christening gift we know you want something special that can last forever. No matter where a loved one goes in their life, this miniature token is something that can stay with them the whole time as a reminder of the moment they were christened.

The piece features a unique blend of traditional and contemporary design, with a classic white cross engraved into the back of the glass and three stylish butterflies engraved into the front, along with the word 'christening'.

To complete such a beautiful piece the glass must go through around 38 individual steps, each helping to ensure a beautiful finish. The mini token will also arrive in our stylish new packaging. 
Dimensions
Height: 40mm
Width: 40mm
Depth: 6mm