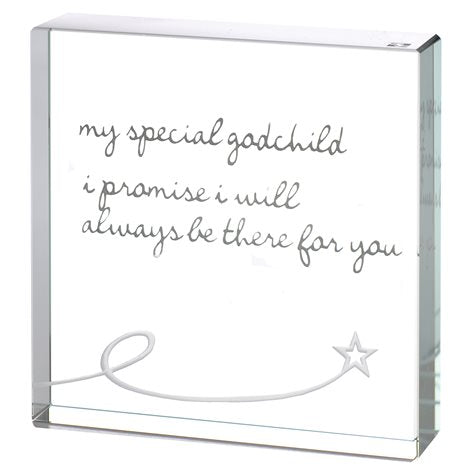 Medium Paperweight Special Godchild Line And Star
£32.95 £0.00
A Spaceform favourite! This piece is such a gorgeous and loving gift for a godchild.  Perfect to give as a christening gift, a birthday gift or at Christmas, it is a simple but heartfelt sentiment.  

This solid block of polished Spaceform glass is engraved with the words 'my special godchild, I promise I will always be there for you'. We wanted to design something that felt personally handwritten, delicately crafted and personally expressed. 

Spaceform Medium Paperweights are substantial pieces and take around 32 processes of hand making to end up with each final perfect and individual piece.  This piece shows an exceptional expertise in craftsmanship that we have been developing for years and comes packaged in a stylish white Spaceform gift box.


Dimensions
Height: 75mm
Width: 75mm
Depth: 19mm