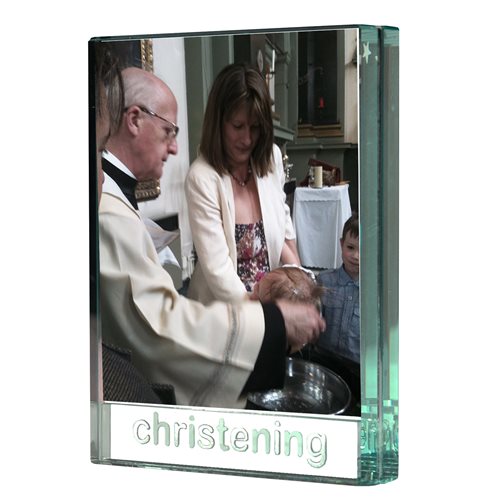 Large Frame "Christening", Portrait
£29.94 £0.00
If you are looking for a beautiful and unique christening gift this stunning large frame could be the perfect piece for you. This is a gift that is ideal for family members, friends, grandparents, godparents and even yourself to remember that special day and treasure the memories forever.

Personalise this Christening Frame >

'Christening' has been etched into the bottom of the frame and has been decorated with metallic silver and white lettering that really gives a lovely feeling of depth.  This design has then been sealed on the inside of the frame, which means you only feel the smooth glass surface on the front. One exception to this is the little scattering of stars in the top right hand corner which are designed to accentuate the depth of the glass.

To get the finished flawless piece ready to send to you this large frame goes through around 37 processes of hand making. Each frame is substantially weighty with a high quality feel and fits a 100 x 110mm photo. You can order perfectly sized great quality photo prints from our friends at OddPrints.com.
 
Dimensions
Height: 130mm
Width: 100mm
Depth: 22mm