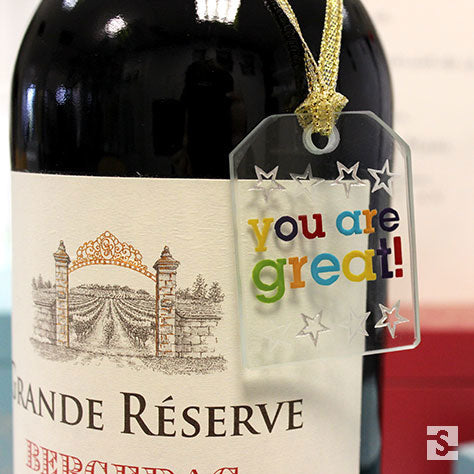 Glass Gift Tag "you are great!"
£8.95 £0.00
The perfect gift for Father's Day, to add to a birthday present or just to say thank you for being a wonderful friend and will express your feelings in a fun and spirited way. The recipient can also use the tag as a hanging decoration to always remember the moment shared.

More than just a gift tag, Spaceform's beautifully delicate handmade Forever Tags are the perfect keepsake to be cherished forever. The words 'You are great' are deeply etched and hand painted in bright cheerful colours with tiny stars lining the top and bottom.
  
The piece is designed to a high standard through several hand making processes to ensure the final result is a perfect, polished and high quality piece that can be treasured forever.

 
Dimensions
Height: 40mm
Width: 30mm
Depth: 4mm